Bicycle Safety Awareness
The bicycle is a fun and popular mode of transportation. Not only are bicycles fun for kids and families, but they are also a great form of exercise. With more and more emphasis on ecology, bicycles are a way to travel to and from work without having to use a car. Unfortunately, bicycling may not be as safe as driving in a vehicle. Bicycle and pedestrian accidents are on the rise, making it important for bikers and drivers to be aware of bicycle safety.
Common Types of Bicycle Accidents
Bicycle accidents can happen in a variety of different ways. Some of the most common bike crashes happen in these ways:
Collision during a turn
Sideswipe accidents
Dooring
Rear end collision
Some of the most dangerous accidents happen when a vehicle overtakes a bicycle on the road. A vehicle may hit the bicyclist, even if the rider is on the shoulder. Accidents can occur when a vehicle makes a turn and does not see the bicycle rider. Dooring is an accident that happens when a parked driver opens the door when there is an oncoming bike rider, causing the rider to crash into the door, sometimes at a high rate of speed.
Charlotte Injury Lawyer Matt Arnold answers the question: "How much time do I have to file a claim for my personal injuries after an accident?"
Injuries Due to Bicycle Accidents
Injuries to bicycle riders can be serious or fatal. Even at low speeds, vehicles can cause serious physical harm to a bicyclist or pedestrian. Some injuries that you could sustain include broken arms or legs, contusions and lacerations, back injuries, fractured ribs, broken collarbone, and concussion. Of these, concussion or head trauma can be the most serious and requires immediate medical attention. Visit the hospital or doctor as soon as possible after an accident.
Preventing Bicycle Accidents
Bicyclists and drivers need to pay attention to the road and drive defensively. Bike riders should obey all the same rules of the road as motorized vehicles. When possible, ride in designated bike lanes, which are available in some areas of Charlotte and other cities. Stay alert and do not text or use your phone. Always wear a protective helmet to reduce the risk of severe head injuries if you
are in a crash. Install mirrors to improve vision. If riding at night, use a light on the front and back of your bike and wear reflective clothing. Avoid roads that are dangerous or that have high speed limits. Make sure your bicycle is in good working condition before you ride.
What to Do After a Bicycle Accident
First and foremost, call the police to report the accident. Always see a doctor or get emergency medical care after a crash. Keep in mind that some injuries can worsen over time, especially brain injuries. Get the name and contact information of the driver and any witnesses. The police will investigate the crash and get details to make their report. If the driver was negligent, he or she may owe you money for your damages. Damages include your medical costs, money for pain and suffering, lost wages, and more. Talk to a qualified personal injury attorney to help you obtain the compensation you deserve.
If you or a loved one was hurt in a bicycle accident, we can help. Call us today at Arnold & Smith, PLLC, at (704) 370-2828 to schedule a free initial consultation or find additional resources here.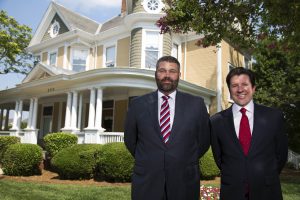 The skilled personal injury attorneys at Arnold & Smith, PLLC are dedicated to maximizing the financial recovery and obtaining justice for every personal injury client injured by another party's negligence. The issues our personal injury clients may be facing include, but are not limited to, slip and fall injuries, wrongful death, product liability, catastrophic injuries, dog bite claims, car and truck accident injuries, motorcycle injuries, traumatic brain injury (TBI), nursing home negligence, spinal cord injury, boating accidents, and defective medical device injury. Our personal injury attorneys understand the devastating impact such an injury can have on a person's life, and that the effects so often go beyond physical pain and suffering. The personal injury attorneys at Arnold & Smith, PLLC are dedicated to helping clients determine the strength of their claims, and to aggressively pursuing the means necessary to achieve the best possible end result for each client's particular situation.
Source:
Finally, biking in uptown without fear | UNC Charlotte Urban Institute | UNC Charlotte
A Visual Guide to Concussions and Brain Injuries (webmd.com)
See Our Related Video from our YouTube channel:
See Our Related Blog Posts: