Sideswipe Accidents: What You Need to Know
Vehicle accidents occur in a number of ways. One of the most common types of car accidents happens when one vehicle sideswipes another. A sideswipe accident can be serious, especially when vehicles are traveling fast. In addition to vehicle damage, you may also suffer injuries and other damages caused by the crash. The negligent driver should pay for all damages associated with an accident. If you were hurt in a vehicle accident, an experienced personal injury attorney will help you seek compensation from the negligent driver.
What is a Sideswipe Accident?
A sideswipe accident is one in which one vehicle hits or scrapes against another. Vehicles may both be moving, or one may be stopped or parked. The vehicles can be moving in the same direction or opposite directions. The two most common causes of sideswipes are lane changes and merging. A vehicle may try to change lanes without properly ensuring that it is safe to do so. Merging onto another road can result in an accident when one driver doesn't have enough room to merge. Some vehicles are more likely to have sideswipe accidents because of their blind spots. Trucks and SUVs sometimes cannot see the areas where they wish to move or merge, which can result in a sideswipe accident.
Charlotte Personal Injury Attorney Matt Arnold answers the question: "If an incident report was filled out, do I have a right to receive a copy?"
Who is at Fault for a Sideswipe Accident?
North Carolina follows the contributory negligence rule. This means that if you are partly negligent in causing an accident, you cannot recover compensation. You must prove that the other driver was negligent and caused the accident. Most often, the driver that hit the other vehicle is at fault for an accident. A driver may have been distracted, been speeding, failed to check blind spots, or was impaired. In some cases, road rage may cause a driver to intentionally hit another car. Your personal injury attorney will help gather evidence in the case to help prove the other driver's
negligence.
Preventing Sideswipe Accidents
Sideswipe accidents can generally be prevented. Avoid this type of accident by paying attention to the road. Drive defensively to make sure you are aware of other drivers on the road. Young and inexperienced drivers may be more prone to sideswipe accidents than others. An inexperienced driver may turn their entire head to look into the next lane, which can cause them to unintentionally swerve their car into the other lane of traffic. Large trucks have blind spots that can make it more dangerous for drivers to change lanes. Drivers should ensure their mirrors are all functioning and pointed in the proper directions. Other drivers should be aware of being in a truck's blind spot and attempt to stay clear of these areas.
Seeking Damages After a Sideswipe Accident
If you are the victim of a sideswipe accident, you may be owed money for your damages from the negligent driver. Damages include medical expenses, lost wages, money for pain and suffering, and more. If you were hurt in a sideswipe accident, you will want to talk to a personal injury attorney as soon as possible. Your lawyer will help to gather evidence to prove your claim. To learn more, contact us today at Arnold & Smith, PLLC, at (704) 370-2828 for a free initial consultation.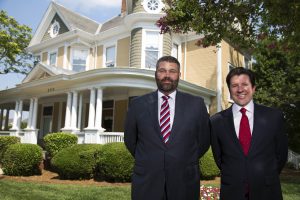 The skilled personal injury attorneys at Arnold & Smith, PLLC are dedicated to maximizing the financial recovery and obtaining justice for every personal injury client injured by another party's negligence. The issues our personal injury clients may be facing include, but are not limited to, slip and fall injuries, wrongful death, product liability, catastrophic injuries, dog bite claims, car and truck accident injuries, motorcycle injuries, traumatic brain injury (TBI), nursing home negligence, spinal cord injury, boating accidents, and defective medical device injury. Our personal injury attorneys understand the devastating impact such an injury can have on a person's life, and that the effects so often go beyond physical pain and suffering. The personal injury attorneys at Arnold & Smith, PLLC are dedicated to helping clients determine the strength of their claims, and to aggressively pursuing the means necessary to achieve the best possible end result for each client's particular situation.
Source:
What to Do When You Get Sideswiped – Your AAA Network
damages | Wex | US Law | LII / Legal Information Institute (cornell.edu)
See Our Related Video from our YouTube channel:
See Our Related Blog Posts: