Three Common Negligent Acts That Can Cause Car Accidents
Car accidents can happen in an instant. Suddenly, you are involved in a serious crash, and you and your passengers may be severely injured. In North Carolina, the negligent party is responsible for paying the damages of the injured party if they caused the crash. You could have astronomical medical bills, rehab costs, and lost wages if you are not able to quickly return to your job. There are several common negligent driving actions that could result in accidents.
Speeding
Our streets and highways have posted speed limits that allow for safe travel. When someone drives faster than the speed limit, it may be considered negligent because the driver knows that it could result in an accident. Speeding can be even more dangerous in school zones where children are present and in work zones. Reckless driving can cause crashes. Unlawful street racing is also a negligent act. Drivers could face criminal charges along with being held liable for damages they caused due to their negligent behaviors.
Charlotte Personal Injury Attorney Matt Arnold answers the question: "What if a loved one dies from the injuries sustained in a serious accident while the case is pending?"
Distracted Driving
Distracted driving is driving while you take your hands off the wheel, your eyes off the road, or your mind off of driving. One of the most common forms of distracted driving happens with texting while behind the wheel. Texting is especially harmful because it is very distracting. Taking your eyes off the road, even for just a few seconds, is dangerous and negligent if it causes a crash. Texting while driving is illegal in North Carolina.
Failure to Yield
You need to drive in a defensive manner to ensure your safety as well as the safety of others on the road. The failure to yield usually means that a driver made a mistake while turning, merging, or changing lanes. Drivers need to stay in their own lanes and can only change lanes when it is safe to do so. When making a turn, the driver must remain in his appointed lane or in the lane that is closest to the curb when making a right turn. If a driver gets out of his lane and hits another car, his negligence is likely to blame.
Negligence in Car Accident Cases
After a car accident happens, you and your insurance company need to know how it occurred and who is at fault. In North Carolina, you may only recover damages in situations where you were not at all negligent in the accident. The other driver must be completely at fault or negligent. It is extremely important to determine the negligent party in a car accident. The negligent party is responsible for damages they caused, such as medical expenses, lost wages, and money for pain and suffering, among other things. Negligence is the failure to use reasonable care when you have a duty to do so.
Car accidents can be traumatic and can turn your entire life upside down. If you were hurt in an accident that was not your fault, you may be entitled to compensation for your damages. Call us today at Arnold & Smith, PLLC, at (704) 370-2828 to schedule a consultation to discuss your case. A knowledgeable personal injury attorney will help to gather information and work on your behalf to negotiate a settlement that covers all your expenses and needs. Do not wait too long to discuss the matter with a lawyer because the law limits the time to file a claim.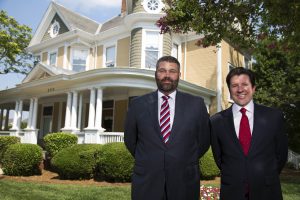 The skilled personal injury attorneys at Arnold & Smith, PLLC are dedicated to maximizing the financial recovery and obtaining justice for every personal injury client injured by another party's negligence. The issues our personal injury clients may be facing include, but are not limited to, slip and fall injuries, wrongful death, product liability, catastrophic injuries, dog bite claims, car and truck accident injuries, motorcycle injuries, traumatic brain injury (TBI), nursing home negligence, spinal cord injury, boating accidents, and defective medical device injury. Our personal injury attorneys understand the devastating impact such an injury can have on a person's life, and that the effects so often go beyond physical pain and suffering. The personal injury attorneys at Arnold & Smith, PLLC are dedicated to helping clients determine the strength of their claims, and to aggressively pursuing the means necessary to achieve the best possible end result for each client's particular situation.
Source:
negligence | Wex | US Law | LII / Legal Information Institute (cornell.edu)
See Our Related Video from our YouTube channel:
See Our Related Blog Posts: