Charlotte Personal Injury Attorney Matt Arnold answers the question: "What if the accident was my fault?"
What Should I Do After a Car Accident in North Carolina?
Car accidents can happen quickly, but they can cause lasting injuries and damage. Accidents occur frequently in North Carolina, and most people will be involved in one at some point in their lives. Fortunately, most crashes are minor. However, when an accident causes serious injuries, it can leave you suffering physical and emotional harm. It is essential to know what to do after a car accident in order to protect your rights and ensure that you get compensation for your damages. If you were hurt in a car accident that was not your fault, it is helpful to seek legal guidance from a qualified personal injury attorney as soon as possible. 
Follow the Law
North Carolina law requires that you report any accident that involves physical injuries, death, or property damages in excess of $1,000. Failure to do so is considered a misdemeanor and importantly, can negatively impact your ability to collect money for your damages. You are required by law to carry liability insurance and must provide your insurance card, driver's license, and vehicle registration to the police. Sometimes, someone who causes a car accident may want to avoid the police and might ask you to handle the situation privately. This is never a good idea because you have no assurance that the driver will do the right thing. Further, you will not have adequate proof of what happened with the accident and could be accused of wrongdoing. 
Gather Information
The police will typically conduct an immediate investigation of the accident. They will interview drivers and witnesses and obtain important contact information. In some cases, they will issue a citation to one or more of the drivers. A citation does not necessarily mean that you are guilty of negligence in the accident. If you were hurt, do not delay getting medical attention. The sooner you seek treatment the better able you are to prove that your injuries occurred as a result of the crash. Keep track of all your medical evaluations and bills. The negligent driver is responsible for paying for all your damages, which may include hospital costs, lost wages, pain and suffering, and more. 
Report the Accident
After an accident, you will want to report it to the proper insurance company. If the other driver negligently caused the crash, you should contact their insurance provider. You will also want to report the accident to your own insurance company. Keep in mind that the other driver's insurance company may try to say that you were partly responsible for the accident, which would prevent them from providing any payment to you. They could also try to minimize your damages or say that your injuries were sustained prior to the accident. Do not quickly settle with the insurance company because once you do you will waive your right to collect any further payments, even if your expenses are greater than the money you received.
Contact a Personal Injury Attorney
After a car accident that is not your fault, you may need some help from a North Carolina personal injury attorney. A lawyer will help to gather information and work on your behalf to negotiate a settlement that covers all your expenses and needs. Do not wait too long to discuss the matter with a lawyer because the law limits the time to file a claim. Please contact us today to get a phone, video or in-person consultation by calling at (704) 370-2828 to speak with our detail-oriented and well-versed lawyers with offices in Charlotte, Lake Norman, and Monroe, please contact Arnold & Smith, PLLC today or find additional resources here.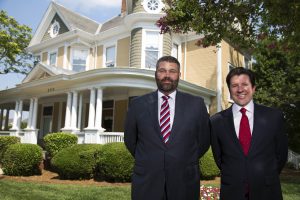 The skilled personal injury attorneys at Arnold & Smith, PLLC are dedicated to maximizing the financial recovery and obtaining justice for every personal injury client injured by another party's negligence. The issues our personal injury clients may be facing include, but are not limited to, slip and fall injuries, wrongful death, product liability, catastrophic injuries, dog bite claims, car and truck accident injuries, motorcycle injuries, traumatic brain injury (TBI), nursing home negligence, spinal cord injury, boating accidents, and defective medical device injury. Our personal injury attorneys understand the devastating impact such an injury can have on a person's life, and that the effects so often go beyond physical pain and suffering. The personal injury attorneys at Arnold & Smith, PLLC are dedicated to helping clients determine the strength of their claims, and to aggressively pursuing the means necessary to achieve the best possible end result for each client's particular situation.
Source:
https://www.ncleg.net/EnactedLegislation/Statutes/HTML/BySection/Chapter_20/GS_20-309.html
Negligence | Wex | US Law | LII / Legal Information Institute (cornell.edu)
See Our Related Video from our YouTube channel:
See Our Related Blog Posts: