Charlotte Criminal Lawyer Brad Smith answers the question: "What should parents tell their children to do when interacting with police officers?"
Can I File a Lawsuit on Behalf of My Child?
Accidents happen to people of all ages. When a child gets injured, it can be devastating to the entire family. This is especially true when the injury is serious. Parents do not want to see their child in pain and do not want to see them suffer through extensive medical treatments. When someone gets hurt because of someone's negligence, the injured party may be entitled to compensation. But what happens when a minor child gets hurt in an accident that is someone else's fault? A parent or guardian has the responsibility to seek justice on behalf of their child. 
Minors Cannot File Lawsuits
A minor child, a child under the age of 18, cannot legally file a personal injury lawsuit. North Carolina law restricts minors from filing lawsuits as well as being sued in a lawsuit. However, the child has still suffered from the accident and has incurred damages. Therefore, a parent or legal guardian may file a lawsuit on behalf of the minor child. Damages might include medical expenses, and money for pain and suffering, among other things. The court may appoint a guardian ad litem to oversee and protect the interests of the child. 
What is Contributory Negligence?
In order to be able to collect damages, you must prove that the party was negligent and caused the injuries. Negligence means that the person had a duty to use ordinary care and failed, resulting in injuries to another. A person may have been partly at fault for an accident. North Carolina uses the contributory negligence doctrine, which means that if someone is even partly negligent, they cannot collect damages in a personal injury case. It is important to note that children under the age of 14 are generally not considered capable of negligence. Therefore, in many cases regarding minors, contributory negligence does not come into play.
Settlements
Many personal injury cases result in a negotiation and settlement prior to going to court. Your attorney will negotiate with the injured party's insurance company to reach a fair resolution. If they cannot resolve the matter, it will proceed to court for resolution. A settlement may be paid to the parents for damages, such as medical expenses, that are incurred before the child reaches age 18. In some cases, there are also costs for medical and other needs that the child will incur after the age of 18. In some situations, the funds are to be held in an account until the child reaches age 18. The settlement money may be put into a trust, settlement account, or some other option. 
Children can suffer serious injuries as the result of the negligence of someone else. The law limits the time to file a claim, which is generally three years from the date of the injury. If your child was hurt in an accident, you may be entitled to compensation. Please contact us today to get a phone, video or in-person consultation by calling at (704) 370-2828 to speak with our detail-oriented and well-versed lawyers with offices in Charlotte, Lake Norman, and Monroe, please contact Arnold & Smith, PLLC today or find additional resources here.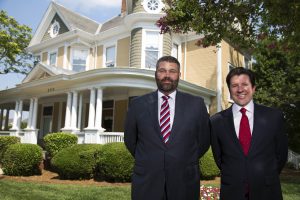 The skilled personal injury attorneys at Arnold & Smith, PLLC are dedicated to maximizing the financial recovery and obtaining justice for every personal injury client injured by another party's negligence. The issues our personal injury clients may be facing include, but are not limited to, slip and fall injuries, wrongful death, product liability, catastrophic injuries, dog bite claims, car and truck accident injuries, motorcycle injuries, traumatic brain injury (TBI), nursing home negligence, spinal cord injury, boating accidents, and defective medical device injury. Our personal injury attorneys understand the devastating impact such an injury can have on a person's life, and that the effects so often go beyond physical pain and suffering. The personal injury attorneys at Arnold & Smith, PLLC are dedicated to helping clients determine the strength of their claims, and to aggressively pursuing the means necessary to achieve the best possible end result for each client's particular situation.
Source:
Negligence | Wex | US Law | LII / Legal Information Institute (cornell.edu)
Contributory negligence legal definition of contributory negligence (thefreedictionary.com)
See Our Related Video from our YouTube channel:
Arnold & Smith, PLLC – YouTube
See Our Related Blog Posts: