Charlotte Personal Injury Attorney Matt Arnold answers the question: "What can you sue for in a personal injury case?"
New Court Ruling Allows Nurses to Be Held Accountable in Personal Injury Claims
Medical mistakes can result in serious harm to patients. Thousands of people every year suffer injuries due to errors by physicians and other medical professionals. Medical mistake litigation has generally been confined chiefly to physicians. However, a recent legal ruling found that nurses can also be held liable for medical errors in claims. This latest ruling changes a long-standing precedent in the state. Previously, only doctors have been accountable for medical mistakes. Now, nurses can also be liable, even if they performed under the direction of a doctor.
The Case That Resulted in the Ruling
The recent court ruling comes from a case in which a young girl suffered a serious injury during a medical procedure. The 3-year-old girl was administered anesthesia when her heart stopped. Unfortunately, her brain was deprived of oxygen for about 12 minutes. The girl survived but suffered permanent brain damage, cerebral palsy, and developmental delay and requires constant care. The parents brought a lawsuit against the doctors and the certified registered nurse anesthetist (CRNA).
Originally, the court ruled that the CRNA could not be held liable. However, through the appeal process, the North Carolina Supreme Court ruled in the case. In making the decision to overturn the lower court's ruling, they reviewed various other cases that involved similar circumstances. They concluded that the CRNA could be held legally liable for the mistake that resulted in permanent injuries to the child. The medical mistake happened in 2010, and the family has been involved in litigation since then.
New Ruling Makes Nurses Potentially Liable
Before this new ruling, nurses were somewhat protected against litigation because they were working under the direction of a physician. The physician was typically held responsible for medical errors. The result of the recent ruling makes every person responsible for their actions. The girl's parents are now able to bring a lawsuit against the nurse who administered the anesthesia, causing the permanent injury. The attorney representing the parents in the matter is John Edwards. He plans to take the case back to trial. The girl is now a teenager and requires round-the-clock care.
What to Do About Medical Mistakes
Medical mistakes are common. Sometimes they do not cause harm, but when they do, you can take legal steps to obtain compensation. When a medical mistake causes injuries, you have the right to take legal action to seek money for damages. A settlement or award may include economic and non-economic compensatory damages, and the judge may also order punitive damages. Economic damages are those that have a discernable value, such as medical bills and lost wages. Non-economic damages may include such things as pain and suffering and loss of consortium. It is important to act quickly so you and your attorney can gather the evidence necessary to prove your claim.
If you were injured due to a mistake made by a medical professional, you might be owed money for your damages. Please contact us today to get a phone, video or in-person consultation by calling at (704) 370-2828 to speak with our detail-oriented and well-versed lawyers with offices in Charlotte, Lake Norman, and Monroe, please contact Arnold & Smith, PLLC today or find additional resources here.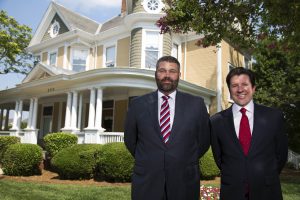 The skilled personal injury attorneys at Arnold & Smith, PLLC are dedicated to maximizing the financial recovery and obtaining justice for every personal injury client injured by another party's negligence. The issues our personal injury clients may be facing include, but are not limited to, slip and fall injuries, wrongful death, product liability, catastrophic injuries, dog bite claims, car and truck accident injuries, motorcycle injuries, traumatic brain injury (TBI), nursing home negligence, spinal cord injury, boating accidents, and defective medical device injury. Our personal injury attorneys understand the devastating impact such an injury can have on a person's life, and that the effects so often go beyond physical pain and suffering. The personal injury attorneys at Arnold & Smith, PLLC are dedicated to helping clients determine the strength of their claims, and to aggressively pursuing the means necessary to achieve the best possible end result for each client's particular situation.
Source:
CRNA | definition of CRNA by Medical dictionary (thefreedictionary.com)
NC Supreme Court: Nurses can be held legally liable (wnct.com)
See Our Related Video from our YouTube channel:
See Our Related Blog Posts: