Charlotte Injury Lawyer Matt Arnold answers the question: "Why should I hire an attorney to represent me in a personal injury claim instead of handling the claim on my own?
Fireworks Safety
Summer is here, and with it comes celebrations including the Fourth of July. Many communities and individuals enjoy fireworks, but they can be dangerous. Many people purchase illegal fireworks and shoot them off throughout the summer months. North Carolina bans the possession or sale of many types of fireworks. Only those with experience and proper licensing should use fireworks. Every year, hundreds of people get hurt by fireworks. In some cases, a person who was injured due to fireworks may be able to seek damages from the negligent party. An experienced personal injury attorney will review your case and help determine how to proceed. 
Firework Regulations in North Carolina
Only some of the least dangerous fireworks are legal to possess in North Carolina. Legal fireworks include wire sparklers, snakes, smoke devices, and poppers. Novelty fireworks that are allowed are those that are stationary and do not fly into the air. Any fireworks that spin, explode, or go into the air are illegal in North Carolina. Roman candles and aerial fireworks including bottle rockets are not permitted. Legal fireworks can only be purchased by those ages 18 and older. 
Firework Displays
Communities and organizations often provide firework displays in the summer. Firework display operators must have proper training and licensing. The North Carolina Office of State Fire Marshall oversees pyrotechnic permitting and enforcement. Display operators must get local permits and follow the National Fire Protection Association (NFPA) regulations. In addition, display operators must also carry sufficient insurance. All operators and assistants of the show must comply with the training and licensing requirements. 
Injuries Caused by Fireworks
Fireworks can cause serious injuries and may even result in death. Some of the most common injuries are burns to the hands, face, and legs, contusions and lacerations, amputations, and eye injuries. The Patch reports that according to the U.S. Consumer Product Safety Commission, more than 10,000 people went to emergency rooms due to fireworks injuries in 2019. That same year, there were 10 reported deaths due to fireworks injuries. 
Injuries may be caused by improper use or because of poor quality of the products. It is important to note that since fireworks are illegal, production may be unregulated and use substandard materials. Sometimes injuries occur to the audience of firework displays. The firework display operator may have been negligent and caused harm or injuries to others. 
Firework Injury Prevention
There are some things you can do to reduce the potential for injuries. Always buy fireworks through a reputable dealer. Store fireworks in a safe location and away from children. Do not carry fireworks in your pockets and keep them away from flame sources. When lighting fireworks, do not hold them in your hand. Instead, place them on the ground and run away after lighting. Do not try to re-light a firework dud. 
Only light one item at a time and use a slab of concrete or pavement that is not flammable. Do not use fireworks when the weather is dry or windy. Keep a bucket of water nearby in case a problem occurs. Never use fireworks alone. Adults should always supervise the use of any firework devices. 
If you or a loved one was seriously injured by fireworks, it may be possible to recover damages. If someone acted negligently, they could be held responsible for the injuries that resulted from their actions. Please contact us today to get a phone, video or in-person consultation by calling at (704) 370-2828 to speak with our detail-oriented and well-versed lawyers with offices in Charlotte, Lake Norman, and Monroe, please contact Arnold & Smith, PLLC today or find additional resources here.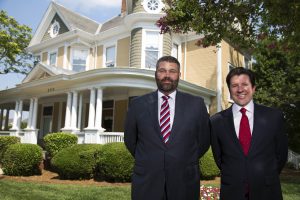 The skilled personal injury attorneys at Arnold & Smith, PLLC are dedicated to maximizing the financial recovery and obtaining justice for every personal injury client injured by another party's negligence. The issues our personal injury clients may be facing include, but are not limited to, slip and fall injuries, wrongful death, product liability, catastrophic injuries, dog bite claims, car and truck accident injuries, motorcycle injuries, traumatic brain injury (TBI), nursing home negligence, spinal cord injury, boating accidents, and defective medical device injury. Our personal injury attorneys understand the devastating impact such an injury can have on a person's life, and that the effects so often go beyond physical pain and suffering. The personal injury attorneys at Arnold & Smith, PLLC are dedicated to helping clients determine the strength of their claims, and to aggressively pursuing the means necessary to achieve the best possible end result for each client's particular situation.
Source:
4th Of July Fireworks Laws: What's Legal In North Carolina | Charlotte, NC Patch
See Our Related Video from our YouTube channel:
See Our Related Blog Posts: