What Can I Do if a Doctor Makes a Mistake?
Everyone makes mistakes from time to time. However, when you are a physician, you must take steps to ensure that you do not make any errors with patients. When a medical mistake causes serious harm, it might rise to medical malpractice. If you are the victim of a medical error, the doctor, hospital, or medical professional could be held responsible for your injuries. An experienced personal injury attorney can answer your questions and discuss your injuries.
Common Medical Errors
Medical mistakes occur in every area of diagnosis and treatment. Some of the most common medical errors include misdiagnosis, surgical mistakes, medication errors, delayed diagnosis, laboratory mistakes, and infections, among others.
Diagnosis Mistakes
Mistakes may be made in the diagnosis of an illness or condition. When that happens, it can cause multiple issues. A patient could be given the wrong treatment path and medications, and the misdiagnosis could cause a delay in the proper treatment. In some cases, such as aggressive cancer, a diagnosis delay could make adequate treatment and recovery impossible.
Charlotte Personal Injury Attorney Matt Arnold answers the question: "Can I post about my injury on Social Media?"
Surgical Errors
Errors can happen before, during, or following a surgical procedure. The incorrect dosage of anesthesia can result in major and ongoing problems. A surgical procedure could be performed improperly, causing bleeding or infection. Inadequate care following a medical procedure might cause harm to a patient.
Medication Mistakes
A physician may prescribe a medication in an improper dosage or one that negatively interacts with other medications. The pharmacist could make an error when filling a prescription or when providing dosage instructions. A caregiver or nursing home employee could give the wrong amount of medication or could forget to give a dose. Medications of different patients could get mixed up, and someone might receive the wrong prescription.
Who is Responsible for Medical Mistakes?
Various parties could be responsible for causing a medical error. A physician, nurse, pharmacist, or other medical professional has a duty to provide proper care to patients. These professionals are held to a higher standard than untrained people. Negligence means that someone acted or failed to act in a way that they knew could result in harm to another.
If negligence happens, the person or parties responsible could be held liable for any injuries or damages that result from the negligent care. More than one party might have been negligent.
What to Do About a Medical Mistake
If you or a loved one is the victim of a medical error, you may be entitled to compensation. If the mistake caused harm, you might be able to file a claim for your damages. Damages could include economic damages, such as medical costs incurred due to the error, and non-economic damages, like pain and suffering. You will need to prove that the mistake caused the injuries. A knowledgeable attorney will help gather the information you need to prove your case. If you believe you were injured as the result of a medical mistake, call us today at Arnold & Smith, PLLC, at (704) 370-2828.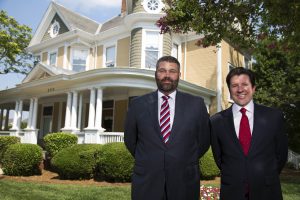 The skilled personal injury attorneys at Arnold & Smith, PLLC are dedicated to maximizing the financial recovery and obtaining justice for every personal injury client injured by another party's negligence. The issues our personal injury clients may be facing include, but are not limited to, slip and fall injuries, wrongful death, product liability, catastrophic injuries, dog bite claims, car and truck accident injuries, motorcycle injuries, traumatic brain injury (TBI), nursing home negligence, spinal cord injury, boating accidents, and defective medical device injury. Our personal injury attorneys understand the devastating impact such an injury can have on a person's life, and that the effects so often go beyond physical pain and suffering. The personal injury attorneys at Arnold & Smith, PLLC are dedicated to helping clients determine the strength of their claims, and to aggressively pursuing the means necessary to achieve the best possible end result for each client's particular situation.
Source:
Negligence | Wex | US Law | LII / Legal Information Institute (cornell.edu)
Is It Medical Malpractice? (webmd.com)
See Our Related Video from our YouTube channel:
See Our Related Blog Posts: