Charlotte Personal Injury Attorney Matt Arnold answers the question: "What can you sue for in a personal injury case?"
Every day we use products that are meant to make life easier or more enjoyable. While most products are safe, there are instances when an item can actually cause us harm. Injuries such as burns, cuts, lacerations, contusions, head injuries, and others can happen when a product malfunctions. If you or a loved one was hurt by a faulty product, you may be entitled to compensation for your injuries and damages.
Product Liability
Product liability provides that a consumer may take action against a manufacturer or other when they were hurt because of a defective or faulty item. When there is a problem with a product there could be several entities at fault. The person or company responsible for injuries depends on various factors.
Manufacturer – The manufacturer may be liable if they made a product that is defective due to a design flaw or mistake in manufacturing.
Distributor or Supplier – The supplier may be liable if they provided a faulty part that was then used in the manufacture of a product that was dangerous.
Retailer – In some cases, the retailer or shop owner could be responsible if they sold a product that they knew or should have known was defective or dangerous.
Manufacturers and distributors have a duty to ensure that the products they make and sell are safe and will not be harmful to consumers.  Companies are generally strictly liable for the safety of their products. If a manufacturer knows a product is dangerous or faulty, they have an obligation to recall the product and to prevent future sales until they resolve the matter.
Product Label Warnings
When you purchase any item whether it is a toy, a television, an appliance, or anything in-between, you probably notice various warnings. A warning label is a way for manufacturers to provide consumers with important information about using a product. It is typically used as a way to eliminate or limit liability. A warning label does not necessarily keep you from filing a lawsuit for injuries. If there is a warning label and you use the product in the intended manner, you might be assuming responsibility for any potential harm. Warning labels are not always written in a way that will protect manufacturers. A warning label does not always limit the company's liability when someone gets injured.
Proving a Product Liability Case
If you were hurt by a product, you may be owed money for your damages. You may be able to file a lawsuit against the negligent party. In order to be in a position to win a product liability lawsuit you must prove that you suffered injuries and the injuries were caused by the product. First, you must determine the negligent party. In some cases, there may be more than one party liable for damages. The statute of limitations for most personal injury claims is three years from the date of injury. If you are unsure about whether a manufacturer or other entity is responsible for serious injuries, contact our personal injury attorneys as soon as possible. We will review the case and help find who is at fault.
If you or a loved one was hurt by a faulty or dangerous product, do not delay. Please contact us today to get a phone, video or in-person consultation by calling at (704) 370-2828 to speak with our detail-oriented and well-versed lawyers with offices in Charlotte, Lake Norman, and Monroe, please contact Arnold & Smith, PLLC today or find additional resources here.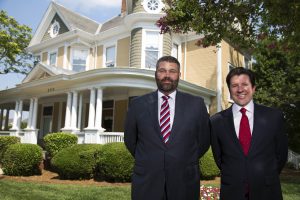 The skilled personal injury attorneys at Arnold & Smith, PLLC are dedicated to maximizing the financial recovery and obtaining justice for every personal injury client injured by another party's negligence. The issues our personal injury clients may be facing include, but are not limited to, slip and fall injuries, wrongful death, product liability, catastrophic injuries, dog bite claims, car and truck accident injuries, motorcycle injuries, traumatic brain injury (TBI), nursing home negligence, spinal cord injury, boating accidents, and defective medical device injury. Our personal injury attorneys understand the devastating impact such an injury can have on a person's life, and that the effects so often go beyond physical pain and suffering. The personal injury attorneys at Arnold & Smith, PLLC are dedicated to helping clients determine the strength of their claims, and to aggressively pursuing the means necessary to achieve the best possible end result for each client's particular situation.
Source:
product liability | Wex | US Law | LII / Legal Information Institute (cornell.edu)
damages | Wex | US Law | LII / Legal Information Institute (cornell.edu)
See Our Related Video from our YouTube channel:
See Our Related Blog Posts: