What Should I Do if I Was Hurt in a Rideshare Accident?
Rideshare services make our lives easier. It is faster and stress-free to get from one place to another when we use car services. Over the last 10 years, rideshare services have become available in all the major cities in North Carolina. Rideshare services are simple to use, but, like any other vehicle, they are sometimes involved in accidents. If you are hurt in a rideshare accident, you need to know what to do to ensure that you get compensation for your injuries. A knowledgeable personal injury attorney will help guide you through the process of filing a claim.
Rideshare Drivers
The most popular rideshare services do not employ drivers directly. Instead, they contract them as needed. Therefore, rideshare drivers must carry their own vehicle and liability insurance. In addition, rideshare companies also have insurance to protect against claims. A rideshare company may deny a claim and require you to seek damages from the driver. Sometimes the driver's policy may limit damages. This creates a complicated situation that can be frustrating, especially when you have been seriously injured. It is best to seek legal guidance to find out your rights in a particular situation.
Charlotte Personal Injury Attorney Matt Arnold answers the question: "Can I post about my injury on Social Media?"
What to Do After a Rideshare Accident
It is critical to report a rideshare accident as soon as possible. Some drivers may fail to report the accident to their company because it can result in the loss of driving privileges. There are ways to
report accidents and seek help through the app itself. This is the first step in the reporting process. The driver is required to make an accident report. If the driver does not call, you should call the police. Obtain the driver's name and vehicle information as well as insurance details. Keep in mind that a police report is a way to prove the accident, so it is essential.
Get Medical Care
It is best to get medical care as soon as possible following a rideshare accident. Tell the emergency room or doctor that you were hurt as a result of a vehicle accident. Follow the care instructions the doctor provides. Keep copies of doctor bills, diagnoses, and treatment plans. The longer you wait to visit the doctor, the more difficult it can become to prove your injuries resulted from the accident. Keep in mind that the insurance company may try to deny a claim if they feel you have not proven the injuries were caused by the crash.
Contact a Personal Injury Attorney
Rideshare accidents can be complicated, so you will want to make sure to get help from a qualified personal injury attorney. Your lawyer will advocate for your rights and ensure that you get the compensation you deserve for your injuries and damages. Damages may include medical bills as well as money for lost wages, pain and suffering, and more. If you are the victim of an accident, the negligent party should pay your damages. If you were hurt in a rideshare accident, do not delay. Call us today at Arnold & Smith, PLLC, at (704) 370-2828 for a free consultation.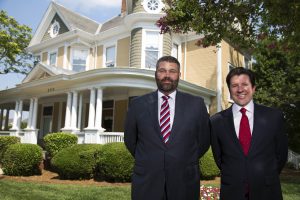 The skilled personal injury attorneys at Arnold & Smith, PLLC are dedicated to maximizing the financial recovery and obtaining justice for every personal injury client injured by another party's negligence. The issues our personal injury clients may be facing include, but are not limited to, slip and fall injuries, wrongful death, product liability, catastrophic injuries, dog bite claims, car and truck accident injuries, motorcycle injuries, traumatic brain injury (TBI), nursing home negligence, spinal cord injury, boating accidents, and defective medical device injury. Our personal injury attorneys understand the devastating impact such an injury can have on a person's life, and that the effects so often go beyond physical pain and suffering. The personal injury attorneys at Arnold & Smith, PLLC are dedicated to helping clients determine the strength of their claims, and to aggressively pursuing the means necessary to achieve the best possible end result for each client's particular situation.
Source:
Rideshare Definition & Meaning – Merriam-Webster
See Our Related Video from our YouTube channel:
See Our Related Blog Posts: