Charlotte Personal Injury Attorney Matt Arnold answers the question: "Are the laws or rules applying to a wrongful death claim different from a personal injury not involving death?"
Utility Terrain Vehicles, UTVs, are specially modified vehicles that are mainly used for work situations. UTVs are similar to ATVs. However, there are some differences. Recent changes in North Carolina laws make driving some UTVs on the street legal. That is good news for some people who own UTVs and are prepared to make the changes necessary to drive them around town. UTVs can also be dangerous, so it is important to follow the laws regarding riding them on the street. A driver of a UTV could be held responsible for an accident if his negligence caused the crash.
What are UTVs?
UTVs are utility terrain vehicles that are similar to all-terrain vehicles, ATVs, with some differences. UTVs are designed more like cars than like off-road vehicles. They have a standard wheelbase, and you steer them with a regular steering wheel. They are built as utilitarian vehicles and can carry a lot of cargo, but they also carry passengers. Passenger seats are arranged side by side; thus, the vehicles are sometimes referred to as "side by sides." UTVs can typically operate at speeds up to 25 to 50 mph. You can legally drive a modified and legal UTV on roads with a speed limit of 55 mph or on four-lane roads with a posted speed limit of 35 mph.
Modified Utility Vehicles
Modified utility vehicles are vehicles originally designed for off-road activities but have been modified to accommodate the needs of driving on the streets. The law defines a modified UTV as a vehicle manufactured for off-road use but does not include golf carts, ATVs, riding lawn mowers, or utility vehicles. The dimensions are specific and must have a length of at least 110 inches,  a width of 58 inches or wider, and a height of at least 60 inches. In addition, you must modify the vehicle to be able to legally drive it on the street. The vehicle must have:
Headlights
Rearview mirror
Parking brakes
Speedometer
Brake lights
Turn signals
Seat belts
Reflectors
Windshield with wipers
In addition to all of the aforementioned additions, the vehicle must also have a Vehicle Identification Number (VIN). A VIN is a unique number assigned to a vehicle that acts as an identifier.
Additional Laws and Requirements
Before you can take your UTV out on the street, you must comply with the law. You will need to register your vehicle with the North Carolina Department of Motor Vehicles. To register your UTV, you will need to provide your bill of sale as well as the title to the vehicle to prove ownership. Additionally, you must provide a completed and notarized "Modified Utility Vehicle Affidavit," which you can typically complete at the DMV office. You will also need a completed inspection. Of course, you must have insurance on the UTV, and you must provide proof of insurance to the DMV. UTVs utilize standard-sized license plates, not the smaller ones that are used on motorcycles.
While some UTVs are street legal, drivers must follow the rules of the road. If a UTV driver's negligence caused an accident, they are responsible for damages. If you were hurt in an accident with a UTV,  please contact us today to get a phone, video, or in-person consultation by calling at (704) 370-2828 to speak with our detail-oriented and well-versed lawyers with offices in Charlotte, Lake Norman, and Monroe, please contact Arnold & Smith, PLLC today or find additional resources here.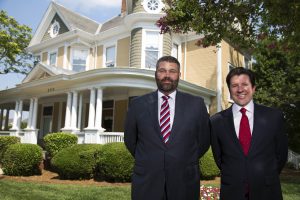 The skilled personal injury attorneys at Arnold & Smith, PLLC, are dedicated to maximizing the financial recovery and obtaining justice for every personal injury client injured by another party's negligence. The issues our personal injury clients may be facing include, but are not limited to, slip and fall injuries, wrongful death, product liability, catastrophic injuries, dog bite claims, car, and truck accident injuries, motorcycle injuries, traumatic brain injury (TBI), nursing home negligence, spinal cord injury, boating accidents, and defective medical device injury. Our personal injury attorneys understand the devastating impact such an injury can have on a person's life and that the effects so often go beyond physical pain and suffering. The personal injury attorneys at Arnold & Smith, PLLC are dedicated to helping clients determine the strength of their claims and to aggressively pursuing the means necessary to achieve the best possible end result for each client's particular situation.
Source:
What is a Vehicle Identification Number (VIN)? | Bankrate
Official NCDMV: Online Services (ncdot.gov)
See Our Related Video from our YouTube channel:
See Our Related Blog Posts: